Problem
Today smart operations are entering all the fields of daily economy and IoT is already in the lives of all of us. Smart City, smart agriculture, smart manufacture – this means not a set of future anticipations, but our reality which allows to increase greatly industrial growth and make the life more comfortable, safe and sustainable.
However different approaches for smart tool implementation may cause problems. Each task is handled separately without integration with external solutions for synergy.
It brings out several issues:
Separate infrastructure for each system.
It is complicated and usually impossible to provide data of related systems.
Both expenses and efforts are increased.
It is hard to manage and scale infrastructure.
Solution
Absolute: SmartCloud is a universal IoT-platform
for monitoring and management of connected devices
Absolute: SmartСloud can receive, storage, process, analyze and visualize data in a fast and reliable way.
Allows to set up and manage connected devices. The platform is easily integrated with another applications.
Functional
How does IoT-platform work
Controller and connected sensors exchange data. Controller transfers received data in Monitoring and management center. Sensors may also transfer data directly to Monitoring and management center.
Any data requested by the user of Monitoring and management center is displayed in the system interface. User can make alternations in settings of remote sites' parameters or carry out any actions permitted with access level, if necessary.
Supports diverse network channels: 2G/3G /4G, NB-IoT, Ethernet, UDP, TCP, LoRaWAN. and more.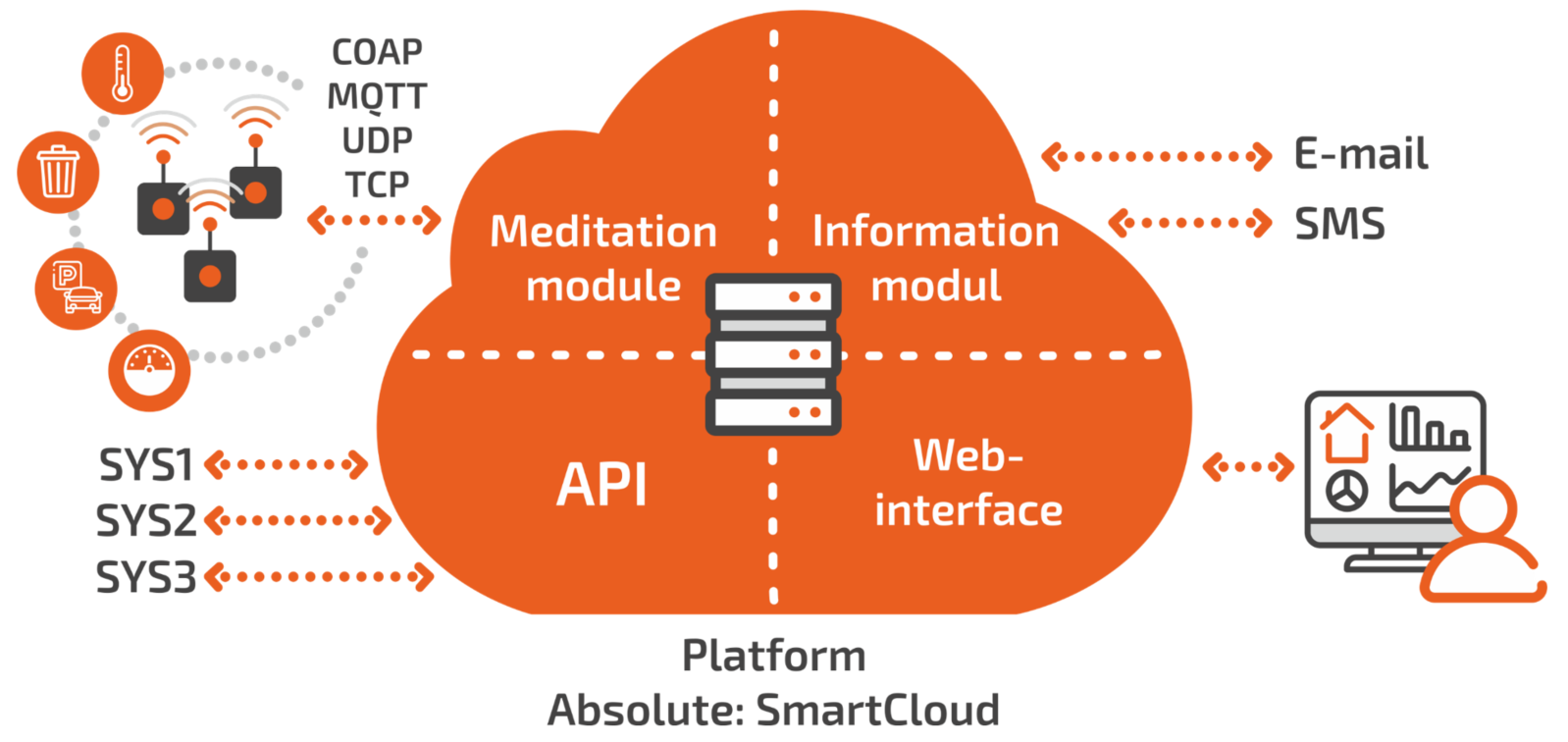 Platform architecture
Advantage
Absolute: SmartCloud meets the requirements for IoT-platforms:
Scalability
Quantity of end-devices which may be connected to the platform with effective balance of server loading is unlimited.
Easy to integrate
Flexible to integrate API.
Alternatives for deployment
Individual server or cloud solution.
Safety
Data protection by encrypting, access control for users.
Database
Reliable data storage, fast access.
Absolute: SmartCloud. Technical capabilities
Platform allows to organize closed individual space for each client.
al setup and usage of Cloud.
Wide support of standards and protocols (2G/3G/4G, NB-IoT, ZigBee, LoRaWAN and more).
High productivity.
Modular architecture.
Fault-tolerant clustering.
Many-user environment.
Possibility to re-design user's interface in custom-style.
User capabilities in the platform
Data from connected devices is storage in the database of remote server allowing to analyze data quickly for management actions, to receive necessary analytical reports and charts.
User area opens wide capabilities: from access rights' assignment to visualization of received data.
According to the client's requirements the interface of the area may be charged under company brand book.
Application industries
Absolute: SmartCloud increases effectivity and reduces maintenance expenses in following industries:
Telecom and Electricity-producing industry
Manufacture and Mining industry
Commercial and residential buildings
Digital housing utilities and Smart City
Logistics and transport
Retail
Agriculture
Absolute: SmartCloud: integrated proposal
We offer an integrated solution: Platform for IoT Absolute: SmartCloud allows to use any network protocols, sensors, a wide range of controllers, sensors of own design. Upon integrated implementation you receive a ready tool that includes all functional capabilities of IoT platforms which is easily scaled and setup for any business-processes.
Additional capabilities with controller
Controller Absolute: SmartSite connected to the platform Absolute: SmartCloud allows to connect many sensors in a single info-analytical area, to manage events, equipment settings and perform many other tasks:
Working with wire sensors (RS485, RS232, etc.)
Local event processing
Local management of diverse devices and equipment
Optimization of network channels' quantity
Guarantee of data transfer to Monitoring and management center by keeping records in a local log
Absolute: SmartCloud: flexible approach
Absolute: SmartCloud platform may adapt to existing solution for certain functional tasks on client's demand.
For instance, Monitoring and management center receives data from sensors and indicators:
sensors of parking spaces
sensors of filling level of dustbins
onsite thermosensors
indicators of diverse types
Depending on functional application at Absolute: SmartCloud platform certain compliant display forms, reports and charts are created according to functional tasks of Clients.
Absolute: SmartCloud: interface